Where We're Going
We don't really know.  Okay, that's not entirely true.
Originally, we thought that a year meant we would go everywhere we wanted to go.  Turns out, the world is really big, so we had to table that idea.
Then, we made a list of all the places we wanted to go in the world.  That didn't do it either. Galapagos Islands, Antarctica and Easter Island – you might have gotten away this time, but we're not done with you yet.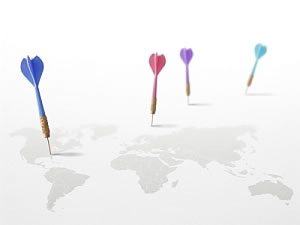 So we took that list, cross-referenced it with the cost to travel there, proximity to other countries we wanted to travel to, cities where we know people, places we might be working, as well as the results of our dart throwing competition, and created a general route and list of countries for our journey.  Essentially, it'll be lots of Southeast Asia, some of East Africa and a little bit of the Middle East.  Here's a detailed look at our itinerary that uses cheese hardness as a measure of our confidence in the dates we'll be there.
We consider it to be a very rough guide. We want to be free to go wherever the wind blows us, unencumbered by Blackberrys, a daily commute or dress socks (except for when we're working).